IQ Test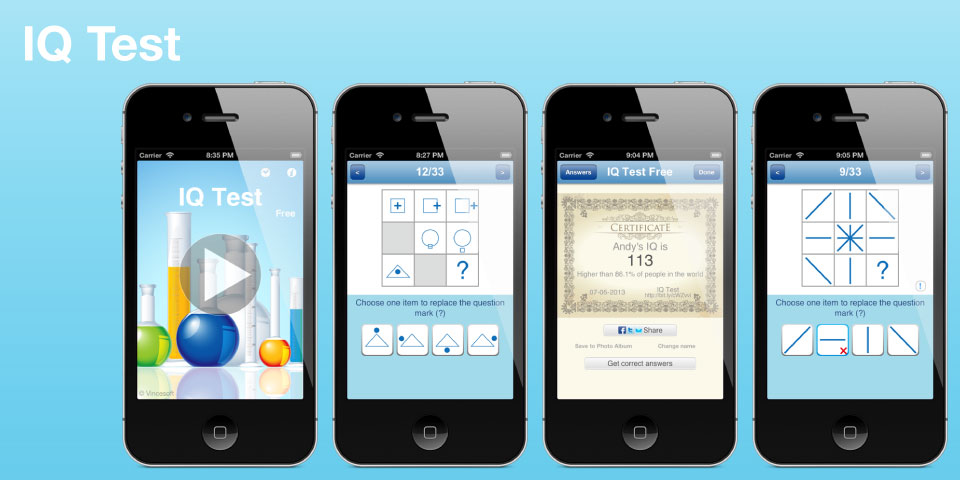 The best app to measure your IQ on iPhone, iPad and Android. There are 10 million downloads worldwide since 2010!
Features:
The IQ test is a highly accurate test prepared by experts.
After you finish the test, you will receive a certificate of your IQ and the global ranking.
There are 2 tests: Classic Test and Mensa Test. It will take you 15~30 minutes to finish the test.
You can share your IQ and the certificate with your friends via social networks such as Facebook, twitter, tumblr, instagram etc.
Differing to other IQ test apps, this app does not give testers abnormally high scores (>130) to please them.
Flashlight GoodTorch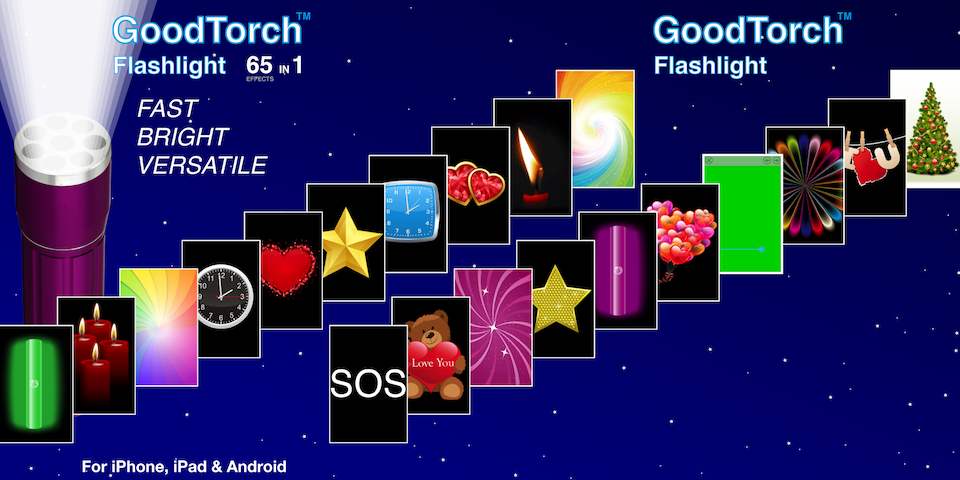 A very handy flashlight app for iPhone, iPad, and Android! 65 effects inside!
Features:
Brightest and fastest flashlight with brightness control. You can shake the device to turn it on/off!
Built-in compass. You can always know the correct heading in the darkness!
Colorful blank screen. You can change it to white, red, blue, green etc and adjust the brightness.
Super big icons. Extremely clear at night.
Colorful glow sticks.
Spinning images (with animations).
Beautiful candle flames.
Very handy clocks.
SOS signal
HELP! (in many languages)
Police car lights.
Lovely stars.
Cute hearts.
Merry Christmas and Happy New Year!
BullKey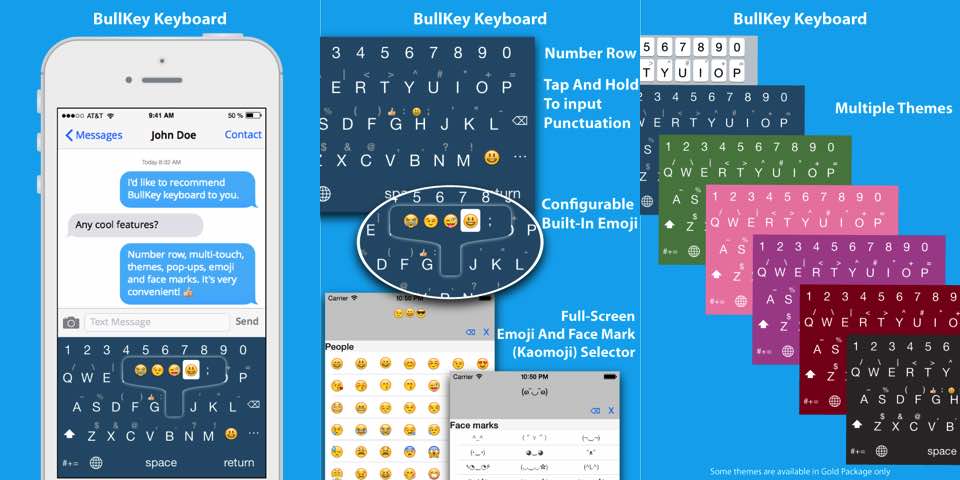 BullKey is a convenient and powerful keyboard with number row, built-in emoji, face marks and multi-themes.
Features:
Number row
Tap and hold a button to input punctuation
Multiple themes
Tap and hold a button to show additional keys including emoji
Customizable additional keys
Tap the smiley face button to show a full-screen emoji selector. You don't need to switch to another keyboard.
Face marks (Japanese Kaomoji, 顔文字, for example, (´・ω・`) )
Multi-touch! You don't need to lift one finger before tapping with the next finger.
Free download:

True or False: Mind Challenge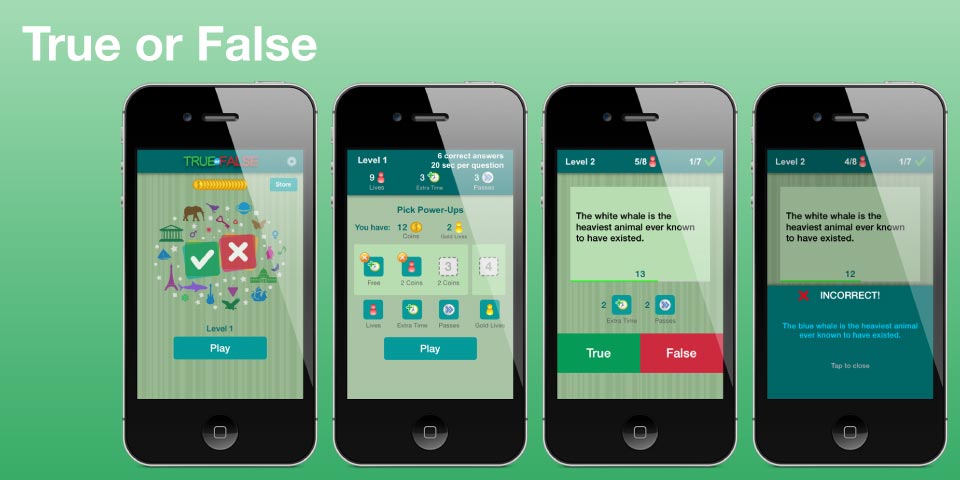 A fun game to challenge your mind.
Are these statements true or false? "Children's and Household Tales is a collection of Danish fairy tales first published in 1812." "Sydney is the capital city of Australia." "RMS Titanic was a British passenger liner on her maiden voyage from New York City, US to Southampton, UK."
You need to make the decision in the limited time!
This is a simple but interesting game! No registration required.
Free download:

Hong Kong Library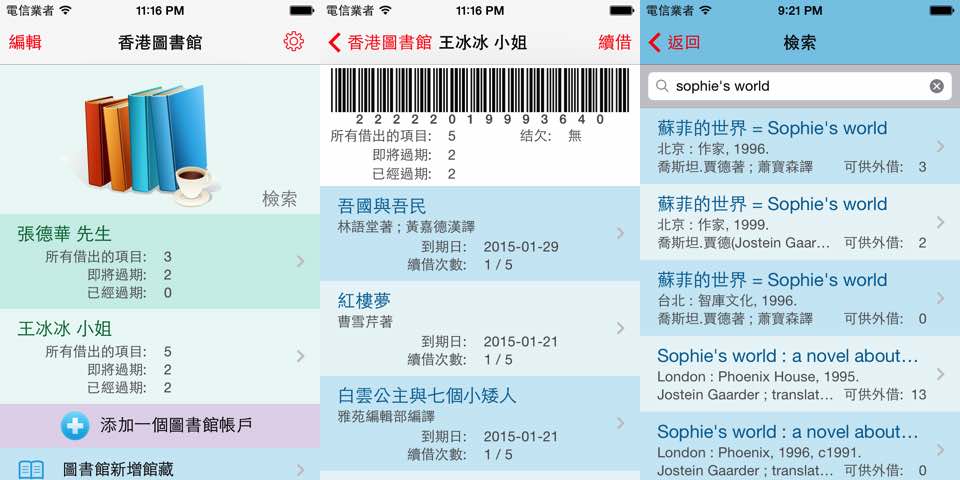 This is the powerful and beautiful client app for Hong Kong Public Libraries.
Features:
Lists borrowed books and due date clearly.
When books will be overdue, you will be notified automatically. You will never be fined because of overdue.
One-click renew.
Digital barcode. You can just scan the barcode on the app when borrowing books.
Shows your account balance.
Supports multiple library accounts. You can add all family members' accounts. (It's a Pro feature.)
Powerful searching. You can find your favourite books easily.
Shows newly added books, including Chinese/English adult/kids lending books/fictions.
Shows book details and the status of copies.
Lists library locations and phones. You can locate libraries in the built-in map.
Lists the opening hours.
The clean, convenient, responsive user interface gives you all new experiences.
You can choose 3 days, 2 days, 1 day and/or 2 hours ahead for overdue reminder.
---
More Apps
---
© Pop-Hub Limited 2013-2014